What are Dinnerware Outlets?
I have often been asked about dinnerware outlets. Basically, an outlet is just a retail store or a merchant that sells dinnerware for a certain manufacturer or wholesaler. At one time, dinnerware manufacturers licensed certain stores to be an outlet to sell their dinnerware. For instance, a certain retailer may be an exclusive distributor of a certain dinnerware brand.
This concept is becoming somewhat obsolete due to the technology that is now available. With the growth of the World Wide Web and the trend of home-based internet access, a manufacture or wholesaler can actually run a global business with little effort.
Some manufacturers, who once had outlets across a nation or worldwide, have actually turned to an online alternative. For instance, Pfaltzgraff used to have outlets all over the United States; however, in 2008 the company decided to focus on internet marketing, so the outlets were closed. Now, you can buy Pfaltzgraff dinnerware from their website, or from affiliates that sell the products for them online through their own website. An action like that from a company that's been in business for over 200 years just tells me that the concept has value.
Online marketing has been good to me. In fact, I worked at home for over nine years and supported my family through an internet business. If that sounds appealing to you, you have to read my story. With a little knowledge, a lot of passion, and some dedicated time, you can create your own money-making internet venture.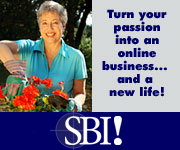 If you are looking for a particular dinnerware outlet, I suggest you look for the brand name or manufacturer's name on the internet. It is easy to find out what stores or merchants sell their products. You might even find the dinnerware that you are looking for on this website. Just look for the dinnerware manufacturer or the dinnerware pattern and you will be led to a retailer. It's as simple as that!
Sometimes, when dinnerware patterns are discontinued or retired, it gets difficult to find them. If that's the case, I suggest that you look for it on online auctions or through replacement dinnerware companies.